They posses almond eyes and brown hair. They are of phlegmatic temperament. They are sometimes conventional and sometimes businesslike. They are prompt and hold conservative views. They will be attracted towards study of occult sciences. They can acquire mastery over the above.They are too callous and enthusiastic.
They hate external shows. They are pious, honest, humble and free from hypocrisy. They do not interfere with other's progress. They have control over their food and drink and but need to have some restraint over relationships. They are brilliant, affable, and pure in thoughts. They are prone to be misunderstood buy others over their hasty conversations. They are likely to suffer from lung disorders and rheumatic problems in alter life. They exercise power with much firmness and justice without indulging in corrupt ways. Contact for Free Sagittarius Horoscope.
THE SUN IN SAGITTARIUS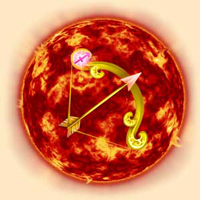 Native is short-tempered, spoils, reliable, rich, obstinate, respected by all, happy, popular, religious, wealthy musician.
JUPITER IN SAGITTARIUS
Pretty, wealthy, influential, handsome, noble, trustworthy, charitable, executive ability, weak constitution, artistic pursuits, poetic, open minded, good speaking capability.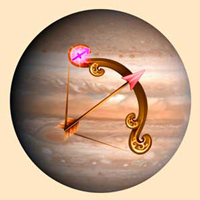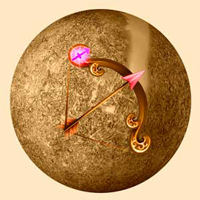 Likes science studies, good respect in society tall and well built, learned ,rash, superstitious, vigorous, executive nature, diplomatic, cunning, just and capable.

SATURN IN SAGITTARIUS
Art-loving, cunning, famous, peaceful, faithful, pretentious, generous,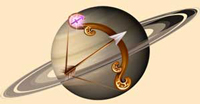 troubles with partner, courteous, dutiful children, happy domestic life.
THE MOON IN SAGITTARIUS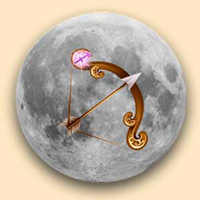 Broad face, large teeth, skilled in fine arts, indistinct shoulders, disfigured nails and arms, deep and inventive intellect, yields easily to praise, good speech, upright, get help from spouse, happy marriage, may children, good inheritance, patron of arts and literature, showy, unexpected fortune likely, has a bent towards writing, reflective mentally, inflexible to threats.

VENUS IN SAGITTARIUS
Medium stature, powerful, wealthy, generous, frank, happy, impertinent, joyful domestic life, high position in career, philosophical.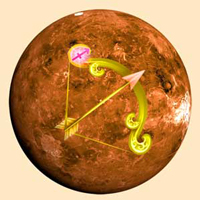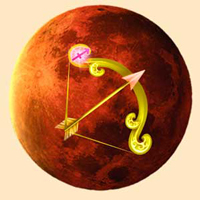 MARS IN SAGITTARIUS
Medium stature, clever, diplomatic, positive tendency, indulgent, tenacious memory, malicious, aggressive, proud, haughty, great strides in life.

SAGITTARIUS GOVERNS
Racing and gambling canter, abdomen, navel of kalapurusha, roads, commercial places, betting places, streets, exchanges, byways, thoroughfares, forests, planes.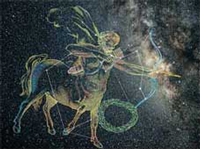 Planets in Zodiac Signs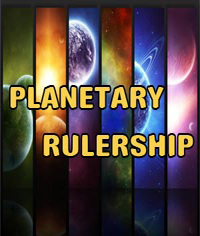 Medical astrology- Sagittarius- Anatomical Parts
Arterial system, femur, hips, sacral region.
Common Diseases for Sagittarius
Gout, paralysis, sudden fits, troubles in the hip.
Related Links
---