Those born under this Ascendant have youthful appearance, a generous disposition and fierce eyes.They are fickle-minded and love much excitement. They are inclined to sensual things in reality while they will not hesitate to talk about controlling sensual pleasures.Females born under this sign have more masculine nature.
They are good correspondents and have friends from around the world. They are proficient in fine arts like music, dancing and the like. They uphold their views and ideals but they do not clash with others over their views. Their constitution will be hot and they likely to suffer from piles in middle age. They are very silent and dignified. Married life would not be that much happy as there would be temperamental differences with partner.
THE SUN IN SCORPIO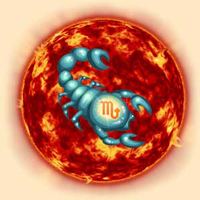 Native is adventurous, bold, fearing thieves and robbers, reckless, cruel, stubborn, unprincipled, impulsive, idiotic, indolent, surgical skill, dexterous, military ability.
JUPITER IN SCORPIO
Tall, stooping, elegant manners, serious, exacting, well built, superior thinking, selfish, imprudent, weak constitution, passionate, conventional, proud, unhappy life.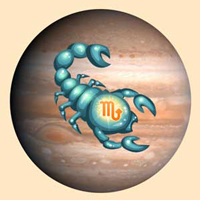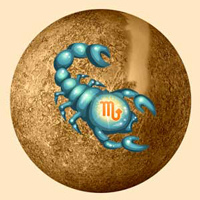 Short, curly hair, indulgent, liable to sexual diseases, general debility, crafty and wicked in nature, malicious, selfish, subtle, indiscreet, bold and reckless.

SATURN IN SCORPIO
Rash, indifferent, hardhearted, adventurous, petty, self-conceited, reserved, unscrupulous,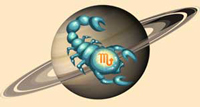 violent, happy, danger from poisons, fire or weapons, wasteful , unhealthy.
Native has broad eyes, wide chest, round thighs, isolation likely from parents, brown complexion, straight forward in all deals, frank, open-minded, cruel, malicious, sterile, agitated, unhappy, wealthy, impetuous and obstinate.

VENUS IN SCORPIO
Broad features, quarrelsome, medium stature, independent, artistic, unjust, proud, disappointed, haughty, not much rich.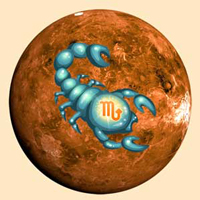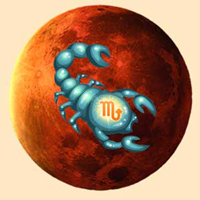 MARS IN SCORPIO
Medium stature, clever, diplomatic, positive tendency, indulgent, tenacious memory, malicious, aggressive, proud, haughty, great strides in life.

SCORPIO GOVERNS
Racing and gambling canter, abdomen, navel of kalapurusha, roads, commercial places, betting places, streets, exchanges, byways, thoroughfares, forests, planes.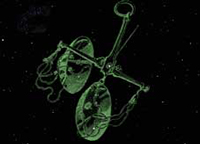 Planets in Zodiac Signs
Medical astrology- Scorpio- Anatomical Parts
Cranium, cerebrum, cerebellum, facial bones, upper jaw, pituitary glands.
Common Diseases for Scorpio
Brain derangement, headache, fevers like ague, malaria, sleeping sickness, apoplexy, insomnia, eye troubles, pyorrhea.
Related Links
---