Some of the great philosophers and seers when born under this Ascendant. People born under this sign will be tall, lean, fairly handsome, of good manners, attractive appearance.They have prominent temples. They are very intelligent and make friends easily.They are peevish and when provoked their anger cannot be controlled.
They are pure in heart and are inclined to help others. They usually excel as good writers and spokesmen.They are generally timid and feel shy to exhibit their talents in public. They are good in astrology, psychology and healing sciences. They are intuitive and good judges. They lack organizing ability. They are totally devoted to their spouses and will not betray their enemies if trusted upon. They suffer from colic diseases and should avoid cold weather and places. Aquarians have something subtle in them which endears them to all.Aquarius Horoscope states
THE SUN IN AQUARIUS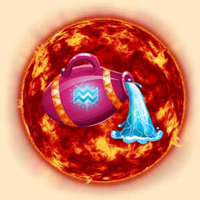 Native would be poor , unhappy, stubborn, unlucky, unsuccessful, medium height, rare faculties, self-esteem.
JUPITER IN AQUARIUS
Learned, nor rich, controversial character, philosophical, popular, compassionate, sympathetic, amiable, prudent, humanitarian, melancholic, meditative, dreamy and has frequent dental troubles
.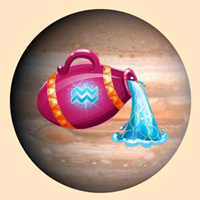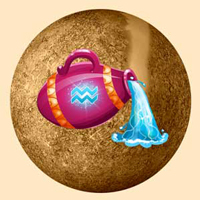 Medium stature, licentious, proud, quarrelsome, frank, sociable, rapid strides in life, famous, scholarly figure, cowardly, of weak constitution.

SATURN IN AQUARIUS
Practical, able, diplomatic, ingenious, conceited, prudent, happy,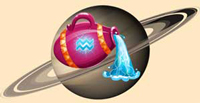 reflective, intellectual, philosophical, vanquished by enemies.
Fair looking, well-formed body, tall, large teeth, low belly, youngish, sensual, sudden elevations and depressions in life, pure-minded, artistic, intentional, diplomatic, lonely, peevish, artistic taste, energetic, emotional, esoteric, grateful and has healing power.

VENUS IN AQUARIUS
Liked by all, medium stature, handsome, affable, persuasive, witty, timid, chaste, clam, helpful, humanitarian.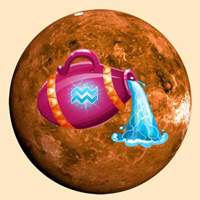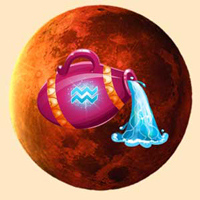 MARS IN AQUARIUS
Unhappy, miserable, poor, not truthful, independent, unwise, wandering, impulsive, controversial nature, combative, good command of any languages, free, quick to act, forgives and forget easily, conventional, danger by water, morose and meditative

AQUARIUS GOVERNS
Marshy places, inferior grains, rendezvous of debauches, prostitutes and vulgar folk, toddy shops, intoxicating drinks, gambling dens, mines, aeronautic machinery, drunkard localities, infamous houses, vineyards, caves.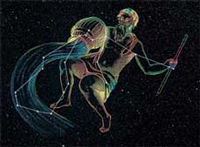 Planets in Zodiac Signs
Medical astrology- Aquarius- Anatomical Parts
Blood circulation, eyes and breath, fibula, bones and muscles of the feet and teeth, tibia, ankles, astragalus.
Common Diseases for Aquarius
Nervous diseases, spasmodic eruptions.
Related Links
---